New 64-bit SOUND FORGE Pro 12 lets you get the job done on a rock-solid platform. The DSP algorithms and editing tools from SEQUOIA are among the most advanced in the world and are now an essential part of SOUND FORGE Pro 12. Record, edit and enhance audio with VST3 effects support, new effects, POW-r dithering algorithms, DSD import/export, iZotope RX and Ozone Elements. With SOUND FORGE Pro 12 Suite you get SpectraLayers Pro 5 plus great plug-ins. Edit precisely with innovative workflows and tools and deliver the perfect high-resolution master for broadcast, CD or streaming.
Multichannel recording & editing
64-bit architecture
One-touch recording
Precision editing & restoration
VST3 effect support
Numerous effects & plug-ins
Design and customize your own editing layouts
Easy video sound optimization without re-rendering
Automate repetitive tasks with scripts
Works seamlessly with SpectraLayers Pro 5
Included as part of this offer: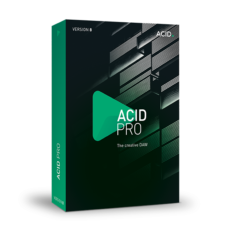 ACID Pro 8 (value: $149.00 / C$199.00)
The creative DAW.
Behind its slick new interface lies a powerful, 64-bit music production powerhouse. It combines ACID's famous easy-to-use workflow with pro-level features, loops and effects and 9 GB of brand new ACIDized loops. ACID Pro 8 is the creative DAW for today's creative artists.
THE ALL-NEW SOUND FORGE PRO
STATE OF THE ART MASTERING, SOUND DESIGN AND EDITING
SOUND FORGE Pro is back and it's better than ever. It has always been an incredible tool for recording, editing and processing audio at the highest possible standard. Thanks to its multi-channel recording, intuitive workflow, extremely powerful editing features and an array of mastering plug-ins, SOUND FORGE Pro set new standards in the audio industry for over two decades. Now, with the release of SOUND FORGE Pro 12, the 64-bit engine, VST3 effect support, and many more hi-end audio plug-ins secures the software position as the number one choice for audio professionals worldwide.
The best just got better
SOUND FORGE Pro 12 offers professional-quality mastering, editing, and sound-design features all within an intuitive and inspiring interface. New features include 64-bit architecture, VST3 effect support, and effects from SEQUOIA, the high-end audio workstation favored by broadcast, post-production and mastering engineers. With the iZotope mastering tools and compatibility with SpectraLayers 5, SOUND FORGE Pro 12 is the ultimate solution for any pro audio task – from precision editing to mastering for broadcast.